The nature of the problem is not tremendously important when it comes to garage doors. The point is NOT to have problems. Any issue related to these amazing but also huge, heavy and complex mechanisms will just make your life difficult, unsafe and insecure. Do you need to walk this path? Is it less hard dealing with a sagging door than with a door that won't open? Problems are always problems and they're not welcome anywhere. The truth is that they're not always avoidable. You might have a perfectly functional overhead door and still cause serious damage by bumping in it with your car. The key point is to find a way to deal with problems, which emerge from natural wear.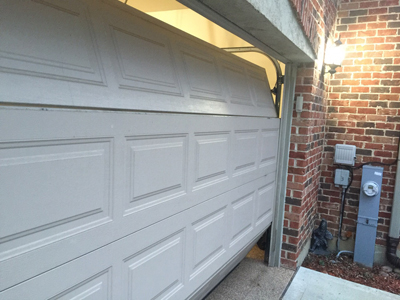 Sometimes, we think that small problems cannot hurt us. WRONG! If we'd want to rephrase correctly, we'd say that they cannot hurt us TODAY. You might think this scrapping noise is innocent and lubrication maintenance the following week will quiet down the system. This is not always the case. Some problems are solved with lubrication but some will need actual garage door repairs. Anything could be wrong. Starting with damaged rollers to bent tracks and loose parts, the door could be jammed tomorrow.


Isn't it best to prevent problems?

There are actually two different things you can do. One is dealing with issues when they suddenly pop. That means repairs will be needed at once. The other is dealing with problems before they emerge. After all, those who own garage doors know well the weaknesses of their system and that garage door parts do wear over time. So, taking care of parts will be the best option. Lubricate components before the noise becomes loud. In fact, it's good to keep lubricants in the garage and periodically clean and lubricate the parts.

Take a closer look. Do you see rusty parts? Do you see missing bolts? It's best to visually check the whole system once in a while and it's also vital to tighten the fasteners so that all parts will be fastened well. It's equally significant to check the reverse system and the entire opener system but also to check the garage door springs. When you have checked that the door opens and closes fully and all parts are in good condition, you'll sleep better at night and hardly have to deal with sudden problems.